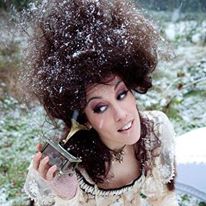 Kirsty Almeida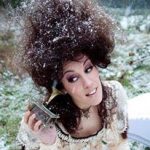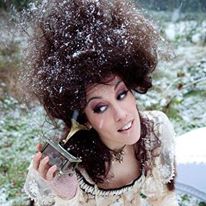 One of our favourite singer-songwriters (from Gibraltar!), Kirsty Almeida is back! "One minute she's a mystical folk faerie cooing gentle madrigals, the next she's smoking jazzily, the next she's a foot-on-the-monitor soul belter," says the Guardian.
www.myspace.com/almeidagirl
Kieran King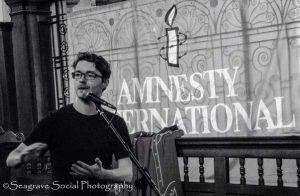 Kieren King is a Salford based spoken word artist. He is best known as the co-creator and host of popular Manchester spoken word nights, Evidently (Shortlisted for Best Regular Spoken Word Night – Saboteur Awards 2015) and the Word War Slams, and formerly as a host of Bang Said The Gun: Manchester. He was recently hand-picked by Guy Garvey of Elbow to curate a Spoken Word event as part of the 2016 Meltdown festival at the Southbank Centre in London.
An experienced performer in his own right, Kieren has been writing and performing his work since 2008 and has performed at various festivals including: Kendall Calling, Wychwood, 2000 Trees, Rebellion, Strummercamp and the Cheltenham Poetry Festival and has featured at a number of spoken word nights throughout the UK, including several performances for Amnesty International and Musicians Without Borders. A multiple slam champion, Kieren was also part of the guest Manchester slam team at the 2016 Hammer & Tongue grand final. He has appeared on several local radio and television shows and was featured on ITV News coverage of Billy Bragg's "Welcome To Manchester" gig during the 2015 Tory Party Conference and has a weekly spoken word show on FAB Radio International.
He was recently commissioned to write and perform a poem for a TV spot by SKY for their new channel Blaze.
Maybe Frank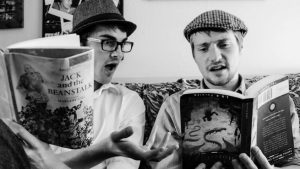 Fast becoming a firm favourite in Manchester, Maybe Frank have stormed the music scene in the North West of the UK. Their very first headline gig at The Kings Arms in Salford sold out and its easy to see why, Maybe Frank are making soaring and emotive pop music. Their live performances are energetic and full of charisma so much so that they won a National Battle Of The Bands competition with the prize being free studio time at the respected Edge Studios. With these hard earned studio sessions they released their debut EP 'Closer'.
The EP was launched in style, a sell-out show at one of Manchester most iconic venues, The Night And Day Café. Not only did their live show prove popular but the digital sales of the EP were soaring and reached number 6 on the iTunes Singer Songwriter charts. Since then it has been non-stop success for the Americana duo, with local TV and radio championing the Closer EP.
Having already performed all over the North West and most notable at Manchester Academy, the band have their sights set on the US and have been greeted with the news that their single 'Semaphore' was selected to be played at South By South West festival in Austin, Texas. They are embarking on a southern US tour in September and October of 2016.
http://www.maybefrankmusic.com/home